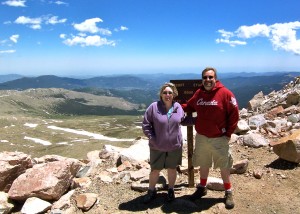 So as a way to beat  the heat on Saturday last, Stan suggested we head into the mountains. We drove west and up to the top of Mt Evans, which is the highest paved roadway in the United States.
Where it was north of 90 degrees in Boulder, it was a crisp 53 degrees (highest temp of record at the top was 65 degrees) at the parking lot at the top of the road (which is a small bit below the actual top). The top is significantly above the tree line and there was still a fair amount of snow around. The 9,000 foot difference from Boulder meant that a small amount of exertion left one breathing heavy; this can make one feel like a whimp when one witnesses the 50-60 people riding their bikes up the mountain. And the road has no guardrails, no line and is just slightly wider than two cars.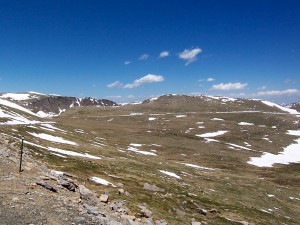 The road was begun in 1931 as part of a project to connect the tops of Mt Evans, Long Peak, and Pike's Peak with a 'highway in the sky.' The rest of the road proved unfeasible (especially with 1930s technology),  but it would've been pretty keen. Crazy, but keen.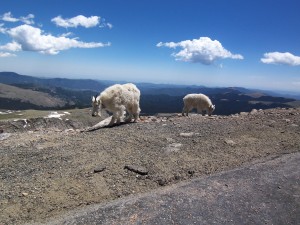 The Mountain Goats were hanging about is several places, although they do hang out near the restrooms at the top because of the minerals that leach where water runs. They are not scared of people unless they get within about five feet or they get too close to the babies. We didn't see any pikas but we could hear them chattering.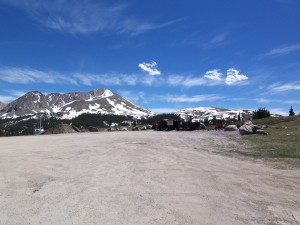 After the long slow trip down Mt Evans, we continued on to Leadville, where I got the grand circle tour after we had lunch at Casa Blanca (best cheap Mexican food in CO so far).
We stopped along the was to see the Climax mine (a blot on the landscape to be sure), where Molybdenum was mined (and may be again). I took this photo in the opposite direction, with the pretty landscape. Stan shoed me some of the mines around Leadville including the Ibex mine run by J Brown, husband of  Margaret Brown. In fact, the mountains of Colorado as just lousy with abandoned mining equipment and out buildings. It would be more picturesque if the resulting tailing ponds and piles of dirt weren't so poisonous.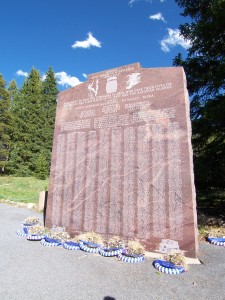 On our way back to the highway we stopped at the 10th Mountain Division memorial as well as the remnants of Camp Hale in the valley below.It was beautiful on Sat, but I can bet it's mighty inhospitable in winter, a great training ground for the first harsh environment light Army division.
We were home by around 8:30. It was fun to see more of the unique places in Colorado. I look forward to many more such trips